UUP MLA Danny Kinahan's office windows broken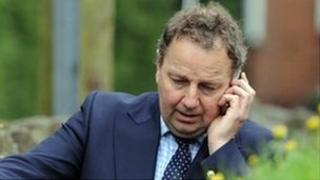 The Antrim constituency office of the Ulster Unionist MLA Danny Kinahan has been attacked.
Fourteen windows were broken on the premises at High Street in the town.
The damage was discovered on Monday morning. Mr Kinahan moved into the premises at the start of the summer.
It is not the first time his office has been attacked. The MLA appealed for anyone with information to contact the police.
"It just seems strange, you might break one window as you are going past, but 14," he said.
"We got it cleared up and we're back in action.
"Obviously it's someone who has either had too much to drink or has an axe to grind."
Mr Kinahan said the only cameras on the street were "pointing in the wrong direction".
He previously shared an office with party colleague UUP councillor Adrian Cochrane-Watson, but said he would not be moving back to his former office in Fountain Street.
"I moved to the middle of town because that's the best place to be," he said.
"I have every intention of staying there."