Warrenpoint man 'beat then threw out naked woman'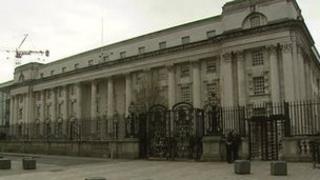 A blind man allegedly beat his partner and then threw her out of their home naked, the High Court has heard.
In a second incident five days later the woman was discovered in the street in her underwear and claiming she had been attacked again, prosecutors said.
Gary Bannon, 32, of Thomas Street, Warrenpoint, denies two charges of assault occasioning actual bodily harm.
He was granted bail in time to attend an eye clinic, but banned from entering the town.
Mr Bannon, who is registered blind, had been drinking heavily before he allegedly forced his partner out into a communal hallway at their apartment block earlier this month.
Prosecution barrister Robert Blackburn said: "She stated he punched her about the face and threw her out of the flat naked."
Police called to the scene cuts and bruising to her face, the court heard.
'Fell over jigsaw'
When the woman was questioned she withdrew accusations that Mr Bannon had hit her, claiming instead to have fallen over a jigsaw puzzle.
The accused later admitted the couple had a verbal row but denied any violence.
Five days later the woman was found in Church Street, Warrenpoint, dressed only in a bra and underwear, according to the prosecution.
She again claimed to have been assaulted, and was taken to hospital with cuts, bruising and a bump on her head.
Mr Bannon told police his partner had been hysterical and he followed her around the street in an attempt to calm her down.
A defence barrister pointed out that the alleged victim does not want to proceed with her complaint.
He added that Mr Bannon, who has peripheral but deteriorating vision, has been waiting nine months for his ophthalmology appointment.
The judge, Mr Justice McCloskey said he was prepared to grant bail despite "considerable misgivings".
He ordered Mr Bannon to live at an address in Newry, and prohibited him from having any contact with the alleged victim.
With an alcohol ban also imposed, the judge directed that the case should be reviewed in two weeks time.