Irish government fails to meet savings targets on public sector allowances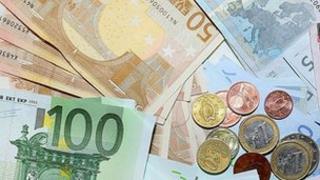 The Irish goverment has been accused of backing down over its plans to cut allowances for public sector workers.
The cuts were planned as part of the Republic's austerity measures after the state received an international bailout from the EU and IMF two years ago.
The government had intended to review 1,100 allowances in a bid to save 75m euros (£60m) this year but has now admitted that target will not be met.
The main opposition party said it had failed to take "difficult decisions".
'Underwear allowance'
The 1,100 allowances under review included payments for training, taking on extra responsibilties and working unsocial hours.
But also on the list were an annual underwear allowance for female soldiers, a weekly plain clothing allowance for Irish police, and a footwear allowance for staff at the Chief State Solicitor's Office.
Up to 30 staff at the National Library receive over £50 euros (£40) per week for being available to work in the evenings, amounting to an annual bill to taxpayers of more than 78,000 euros (£62,600).
The Irish Minister for Public Expenditure and Reform, Brendan Howlin, said over 800 business cases had been made for the retention of the payments and he accepted that, given the size of the review undertaken, the savings targets for 2012 would not be realised.
'Broken promises'
However, Mr Howlin said that some of the allowances would be reduced and some would be removed completely for "new beneficiaries".
For example, new teachers will not receive an existing 4,500 euros (£3,600) qualification allowance, and in effect will earn 20% less than their colleagues who secured permanent jobs before 2010.
The only payment that is to be completely abolished is travel and expenses allowances for officials who represent Ireland at EU meetings and other international organisations.
But the main opposition party, Fianna Fail, criticised the coalition government and said the outcome of the review meant public sector allowances were to be "kept virtually untouched".
They said that instead of saving 75m euros (£60m), the reductions would amount to just 3.5m euros (£2.8m) and they described it as "another stunning example of the government litany of broken promises".
'Vulnerable'
The party's jobs spokesperson, Dara Calleary, said: "The fact that just one allowance out of over 1,100 detailed to Minister Howlin is being cut for existing public servants shows that this government is prepared only to talk about taking difficult decisions and has no intention of actually taking any.
"The public will again find it difficult to tolerate cuts to the most vulnerable in need of home care packages and home help hours while the government fails to meet a promised saving," he added.
Last month, it was announced that the Republic's health services would have to make cuts of 130m euros (£103m) to staff and services or it would run out of money before the end of the year.
The Republic of Ireland's public sector pay bill currently stands at about 15.4 bn euros, representing an estimated 30% of the state's total annual expenditure.
Last year, around 12% of that bill related to staff allowances and overtime payments.