Olympic silver medal kept in 'pants' drawer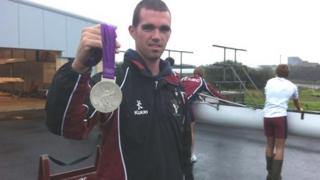 One of Coleraine's Olympic medal winning rowers has revealed that he keeps his silver medal in his pants drawer.
Richard Chambers made the confession during an interview for the BBC's Good Morning Ulster programme.
As part of Team GB, Richard and his brother, Peter, took silver in the lightweight fours during the recent London games.
On Thursday, Richard was giving a rowing masterclass to pupils from Coleraine Academical Institution, where he was a former pupil.
Asked where his medal was, he replied: "It's in the car. We'll not take it out on the river; it might get to the bottom of the River Bann."
However, off air, he told reporter Karen Atkinson a bit more.
Karen said: "Richard let me into a top secret.
"He keeps his silver medal, when he's at home, in his pants' drawer. It occasionally hangs around the banister."
Richard, who started rowing for the school when he was 14, described the London 2012 games as an incredible experience.
"We were on that racing track and there was 30,000 people there and they were all shouting for us, they were all shouting for the home nation," he said.
"It's something I don't think I will ever experience again. It's something I'll always remember. It really was a special Olympics.
"The Olympics come around every four years but London Olympics will only come around once in my lifetime to compete in."
The Olympian - one of three from Coleraine - said it was great to be passing on some of his skills to the younger rowers.
"These boys - they've got a passion for it, they want to train," he said.
"These guys have turned up at seven o'clock this morning because they want to be here, they want to train and they love their sport."
On the agenda was a full training session, including a talk on competing at such a high level, drugs in sport, and injury prevention.
"I can remember being one of the schoolboys and seeing the likes of Richard Archibald and a lot of the other guys who had their Ireland vests on and that really inspired me," he said.
"I think it's really important for me to come and give something back to the school."