Peter and Iris Robinson standards investigation still not finished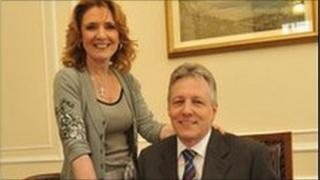 An investigation into the conduct of Peter and Iris Robinson has still not been completed, the BBC understands.
The investigation was ordered by the assembly in January 2010 after a BBC Spotlight programme about Mrs Robinson's financial dealings.
It will now be handed over to the new assembly standards commissioner, Douglas Bain.
Mr Bain has rejected unionist calls for him to resign from his other post as a member of the Parades Commission.
Delayed
The Assembly Standards and Privileges Committee ordered the investigation shortly after the Spotlight report on Mrs Robinson's financial dealings and relationship with young businessman Kirk McCambley.
However, the inquiry was delayed for more than a year after the police launched their own investigation into the affair.
In March 2011, the Public Prosecution Service announced that no criminal charges would be brought. Three months later, the assembly said its own investigation would resume.
However, this week the interim standards commissioner, Tom Frawley, stood down without publishing a report on the Robinsons.
It is understood that a key witness, assumed to be Mrs Robinson, was considered too ill to interview.
The case will now be one of a handful passed on to new Standards Commissioner Douglas Bain.
Mr Bain has a long track record as a senior civil servant and Northern Ireland's former chief electoral officer.
More recently he has served as a member of the Parades Commission.
Last month, Mr Bain met residents from Carrick Hill in north Belfast to hear their concerns about parades passing by St Patrick's church.
Some unionists believe Mr Bain's multiple roles constitute a conflict of interest.
In an internet article last month, DUP minister Nelson McCausland called Mr Bain a "quadruple jobber".
In the assembly on Tuesday, TUV leader Jim Allister called for Mr Bain to resign from the "divisive, controversial" Parades Commission.
However, Mr Bain said there was no legal disqualification on holding both his two main jobs, and he said he saw no reason why he could not fulfil both roles in a professional manner.
In his first interview since taking up his new role, Mr Bain told the BBC he did not think there was any conflict of interest.
If anyone were to raise a complaint about an MLA's conduct which related to one of his Parades Commission determinations, Mr Bain said arrangements were in place allowing the investigation to be carried out by someone else.
Clarifying how many posts he holds, Mr Bain said he had resigned from the assembly commission's Audit and Risk Committee.
He remains an examiner for the Association of Electoral Administrators, a job which he says takes six days a year
He is a lay member of the National Security Certificates Appeals Tribunal, but says the body meets "extremely rarely"
His work on the Parades Commission takes on average less than eight days a month
His new job as an assembly standards commissioner was advertised as taking three to four days per month.
Mr Bain said he believed he had sufficient time to manage all his roles, but added that he would keep the matter under review.
He said that if he ever felt he could not carry out both posts in "a full and professional manner", he would consider stepping down from the Parades Commission before his current term as a commissioner ends in December 2013.