Tyrone born author, Martina Devlin, wins literary award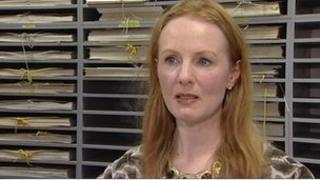 Irish author and journalist Martina Devlin has won a Royal Society of Literature award for the best unpublished short story of 2012.
Ms Devlin, who is originally from County Tyrone, is a bestselling author and a weekly columnist with the Irish Independent newspaper.
She was born in Omagh but now lives and works in Dublin.
She will be presented with the VS Pritchett Memorial Prize at a ceremony in London in November.
The award, now in its 13th year, is given in tribute to the British short story writer, Sir Victor Sawdon Pritchett, who died in 1997.
Ms Devlin's winning entry is called Singing Dumb, and tells the story of young girl from a rural community whose three-year-old brother is involved in a car accident.
She began writing fiction in 1996 and won the Hennessy Literary Award for her first published short story.
Since then, she has been shortlisted twice for the Irish Book of the Year awards.
Her major works include Banksters, an account of the Irish banking collapse which she co-authored with RTE journalist, David Murphy, and the Titanic-themed novel, Ship of Dreams, inspired by her family link to the 1912 diaster.
She made the connection when she came across the name of her grandmother's uncle, Tom O'Brien, while researching the ship's passenger list.
The author discovered that he had gone down with the Titanic, whilst his new bride had survived and later given birth to their daughter in New York.
Ms Devlin is also a regular contributor to RTE radio and BBC Radio Ulster.