Dissident republican arrests at Kiln Road, Lurgan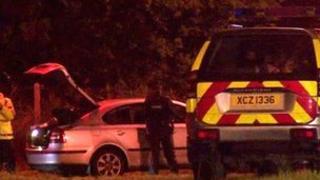 Three men remain in custody after they were arrested in County Armagh, as part of a police operation against dissident republican activity.
They were arrested when two cars were stopped at Kiln Road, Lurgan, on Thursday night.
Police said a gun or imitation gun was recovered. The men, aged 23, 28 and 35, are being held at Antrim police station.
Eyewitnesses said police surrounded one car and made the arrests.
They were put in forensic suits and taken away in a police car.
Two of the men who were arrested are from Lurgan and the other is from Craigavon.