Belfast robbery team sentences increased by Court of Appeal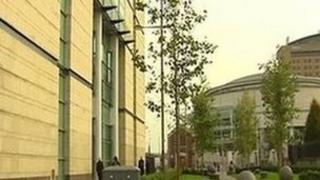 An "armed robbery team" jailed for a series of raids were given unduly lenient sentences, the Court of Appeal has ruled.
Senior judges increased the terms given to Belfast men Michael Nolan and Patrick Shannon by three years each.
Nolan, 34, from University Street , was jailed for nine years last November after pleading guilty to five robberies and two attempted robberies.
Shannon, 39, from Velsheda Court, got seven years after admitting two raids.
At the time the pair were described in Belfast Crown Court as "constituting a robbery team".
In one of the raids both men carried out in 2008, a cash delivery guard was threatened at gunpoint as he took a money box from Iceland on Belfast's York Road.
Staff who tried to intervene were threatened with being shot. The pair got away with £15,000, but were later identified from DNA profiles.
Later the same year, they targeted a guard taking cash to an ATM at the Abbeycentre in Newtownabbey, but the stolen box was empty.
Armed with hatchet
Nolan was convicted of further robberies at Homebase at Upper Galwally, two Lidl supermarkets in Ballymoney and Magherafelt, and a JJB outlet in Belfast.
He was armed with a hatchet when he threatened staff in the Homebase incident.
After the Magherafelt raid in 2010, police chased him through Draperstown, Maghera and Tobermore while he drove a stolen car.
The case was referred to the Court of Appeal by the Director of Public Prosecutions.
It was argued that tougher sentences were merited due to the level of planning, premeditation, the use of weapons and violence, and because members of the public were put in fear.
Lord Chief Justice Sir Declan Morgan, sitting with Lord Justice Higgins and Mr Justice McCloskey, held that the trial judge was wrong to give Nolan and Shannon full credit for guilty pleas they could have entered sooner.
Sir Declan said: "In these cases the offenders made no admissions at interview and indeed entered defence statements denying guilt.
"An offender who chooses to take such a course while exploring disclosure issues cannot normally expect to obtain full discount on a plea of guilty entered subsequently."
He added: "We consider each of the sentences imposed was unduly lenient."
Substituting a 12-year term for Nolan's original nine year sentence, and 10 years imprisonment for Shannon's original seven years, Sir Declan explained that the effect of double jeopardy was being taken into account.
He also confirmed: "The Serious Crime Prevention Orders made by the learned trial judge will remain in place."