Appeal after woman stabbed to death in Dublin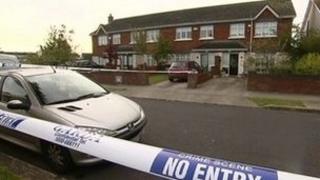 Irish police investigating the murder of a mother-of-two in Dublin have appealed to a man who brought her to hospital to contact them again.
The woman and her brother were stabbed several times at her home at Allendale Glen in Ongar shortly before 21:00 BST on Friday.
Her children, who were also in the house at the time, were not injured.
The man's injuries are not thought to be life-threatening.
The woman was pronounced dead at 22: 30 BST.
Police said the man who left her at the Emergency Department of Connolly Hospital in Blanchardstown, made contact with them on Friday night.
It is understood she was brought there in a white Ford Focus hatchback, bearing the partial registration number 08 D 22, with a missing rear driver's side hub cap.
Police have appealed to the driver of the Ford Focus to contact them.
They have also asked anyone with information on the attack, including any medical staff or visitors to the hospital, to contact police at Blanchardstown.