Ex-Ballymena councillor William Wilkinson cleared of rape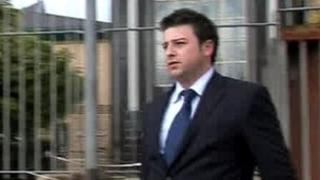 A former Ballymena councillor, already serving a jail term for raping a woman in 2008, has been cleared of attacking another woman.
William Wilkinson, 35, was to have faced a second trial on Monday morning for the rape of the other woman in 2003.
However, a prosecution lawyer told a judge at Antrim Crown Court he would be offering no evidence against Wilkinson.
No reason was given for the Director of Public Prosecution's decision.
In May last year, Wilkinson of Tully Road, Portglenone, was jailed for seven years for the rape and attempted rape of a woman, described as an acquaintance, in her home in August 2008.
The following month he sought to have his conviction overturned, but the Court of Appeal ruled that the guilty verdicts were "safe".
Formerly a DUP councillor, Wilkinson split from the party in protest at power-sharing with Sinn Fein, and then sat on Ballymena Council with the United Unionist Coalition Party.