Olympic medal winners trump anti-social graffiti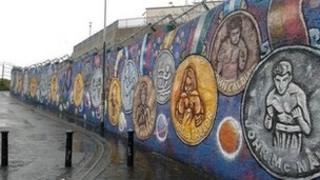 Belfast, a city renowned for its gable wall paintings, has a new mural.
But, this time it has nothing to do with politics.
Instead this one is honouring the achievements of Olympic medallists and the men who built the Titanic.
The new mural is located off the top of the Falls Road. In an area known locally as the Giants Foot.
But, it's not on a gable wall, it's on a 70m perimeter wall between the local Irish Language School 'Colaiste Feirste' and local homes.
Belfast City Council, the Department for Social Development and the PSNI all backed the project.
Sinn Fein councillor Steven Corr said the artwork replaces anti-social graffiti.
"Basically what we have in this area at the entrance to the school is an anti-social hot spot," he said.
"It's been like that for a number of years. It's a dark, dingy site, there's no street lighting in it.
"There's graffiti all over the walls, rubbish everywhere, and it was an eyesore, both to look at, but also for local people to walk through."
Mr Corr said local school children had to walk the pathway everyday on their way to school.
"We believed that kids going to school in the morning should be going through something a bit more inspiring so we had come up with the concept of what could we do," he said.
"What's more inspiring for local young people than to celebrate our Olympians, our famous Olympians in the city and also to celebrate this area's connection with the Titanic."
Conor O'Curra is one of the students who helped out.
"We thought that the area needed a bit of tidy-up," he said.
"We wanted to walk home from school feeling safe and not feeling intimidated by our own school walls, so we were closely involved with the design and the painting of the mural itself."
Local resident Collette Traynor said it was part of a wider programme aimed at regenerating a run-down area.
"It all started because the hoods, they burned my car and my skip, so all my neighbours got together and we started with meetings in my friend's house and my own house," she said.
"It is a big change and it has changed the residents despair into hope and it has changed our idea that we're going to be living in a better area."
Olympic medallists Paddy Barnes, Jim McCourt and John McNally were among those who attended the unveiling, along with John Conlon, representing his Olympic silver medallist son, Michael.
"Everyone in the boxing community knows who Jim and John are," he said.
"It's a testament to what they have done and they deserve to be on the wall just as much as Paddy and Michael."
Bronze medal winner Paddy Barnes, said he was honoured to feature on the mural.
"It's great that I'm on it, but I feel sorry for the school kids having to look at my face everyday going to school.
"They'll be sick of looking at me."