Simon Tang murder detectives arrest man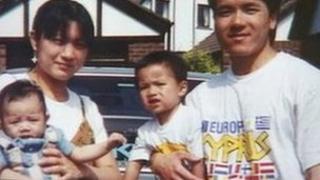 Detectives investigating the murder of Simon Tang in Carrickfergus, County Antrim, in 1996 have arrested a 39 year old man on suspicion of murder.
The man was arrested in the town on Monday as part of the renewed investigation.
He has been taken to the serious crime suite at Antrim police station for questioning.
Mr Tang, 28, died after he was attacked and robbed outside his takeway business in Carrickfergus in June 1996.
Five people, three men and two women, have been charged with offences linked to the murder in the past number of months.
Mr Tang was an Oxford University graduate, but instead of pursuing a career in architecture he took over the family business.