Smithwick Tribunal to resume hearing evidence in private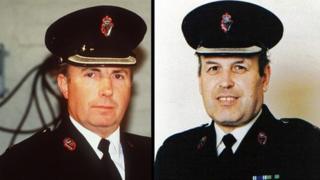 The Smithwick Tribunal will resume hearing evidence in private on Tuesday about new PSNI intelligence relating to allegations of garda collusion in the IRA murders of two senior RUC officers.
Chief Superintendent Harry Breen and Superintendent Bob Buchanan were shot dead in 1989 in south Armagh.
They were killed only minutes after leaving a meeting in Dundalk Garda Station.
The Dublin tribunal began public sittings last year.
It has been investigating the claims for seven years.
Last week, it emerged that the PSNI had sent the tribunal 12 new pieces of intelligence relating to allegations of garda collusion.
The tribunal chairman, Judge Peter Smithwick, agreed to hear the evidence in private due to its "sensitive nature".
PSNI Assistant Chief Constable Drew Harris is expected to be cross-examined on Tuesday about the details of the intelligence, during a closed session.
Judge Smithwick has also indicated that he is expecting an update on the health of former Detective Garda Sergeant Owen Corrigan.
Mr Corrigan is one of three former garda sergeants under the spotlight at the tribunal.
He denies all allegations of collusion.
The Irish government has given the tribunal a deadline of 31 October to complete its investigation.