NI's first 50m swimming pool opens in Magherafelt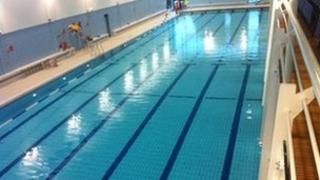 Northern Ireland's first 50m swimming pool has opened to the public in Magherafelt, County Londonderry.
It is located in the town's new leisure centre and cost rate payers more than £9m.
A 50m Olympic-sized pool is currently being built in Bangor, County Down.
Laurence Hastings from Magherafelt District Council said they never considered that they were in a race to have the first 50m pool and that was a cost-saving measure.
"The facility here developed as a result of the need," he said.
"Our existing facility was almost 40 years old. It was done and it was our opportunity to refurbish and renew that facility.
"We saw that a 50m pool was actually cheaper.
Positive reaction
"It was cheaper to do a 50m pool than two 25m pools and that's really why it has evolved."
Mr Hastings said he had been "overwhelmed" by the positive feedback from people who had visited the new centre.
Greenvale Leisure Centre in Magherafelt is council-owned but is run by a private company.
Robert Buckley is manager of the leisure centre.
"There have been nearly 3,000 families who have registered in the last two months and over 900 kids have registered for the swimming lessons programme which we are starting next week, so there's been a huge demand for it," he said.
The leisure centre opened on Monday and took two and a half years to build.
It has created 50 full and part-time jobs.