Man in court charged with stealing from Knockevin Special School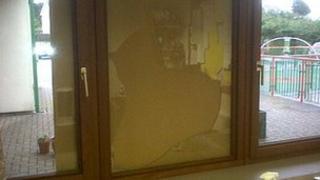 A man accused of stealing from a special needs school has appeared in court in Newtownards.
Knockevin School in Downpatrick was broken in to at the weekend, a number of its buses were vandalised and £5,000 taken.
James Rodgers, 23, from Drumaness Walk in Downpatrick, is charged with trespassing, taking goods, damaging six school buses and other similar charges.
He is also accused of trying to steal two of the vehicles.
He was remanded in custody to appear via video link in Downpatrick on 27 September.