Roisin Shortall resigns as Irish junior health minister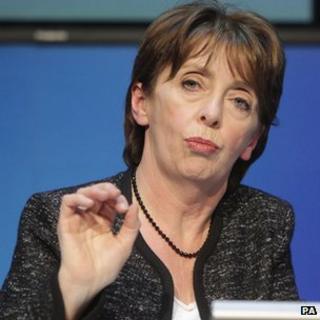 The Irish junior health minister, Roisin Shortall, has resigned over what she claimed was a "lack of support" for health reforms in the Republic.
It follows tensions in her working relationship with the Health Minister, James Reilly, her senior counterpart in the Republic's coalition government.
The Fine Gael/Labour coalition is implementing cuts of over £130m euros (£103m) to Irish health services.
In a speech last week, Ms Shorthall warned the poor might be hit hardest.
Announcing her decision to quit on Wednesday evening, she also confirmed that she was resigning the Labour Party whip.
In recent days, there have been tensions between Ms Shorthall and Mr Reilly amid controversy over the location of 35 primary care centres across the Republic.
She has publically questioned his decision to add an extra 15 centres to an original list of 20, including two located within Mr Reilly's own constituency.
At the weekend, Ms Shortall called on Mr Reilly to explain the criteria he had used when choosing the additional centres, saying they had not been identified as priority locations.
In her resignation statement on Wednesday, she said: "It is no longer possible for me to fulfil my role as minister of state for primary care because of lack of support for the reforms in the programme for government and the values which underpin it.
"The public have a right to expect that decisions on health infrastructure and staffing will be made in the public interest based on health need and not driven by other concerns."
Her Labour party colleague, Emmet Stagg, said he regretted the resignation, and told the Irish state broadcaster RTE that the loss of a junior minister was a "serious matter" for the government.
Last week, Mr Reilly survived a motion of no confidence called by opposition parties over his handling of health reforms.