Marian Price 'too ill' to stand trial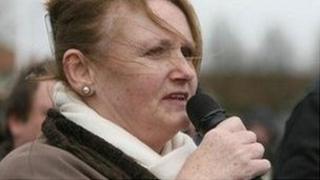 Londonderry Magistrates Court has been told that Marian Price is too ill to stand trial.
Her solicitor said after examinations by UN, prison and defence doctors their consensus was she was too ill to give proper instructions to her legal team.
She has been charged over a dissident republican easter commemoration rally in the City Cemetery in April 2011.
The 58-year-old is accused of addressing the gathering with the aim of encouraging support for the IRA.
The case was adjourned for three weeks.
Price was convicted for her part in the bombing of the Old Bailey in London in 1973 but was later released from prison on licence.
Her licence was revoked by then Secretary of State Owen Paterson last May.