Rural areas 'should be priority'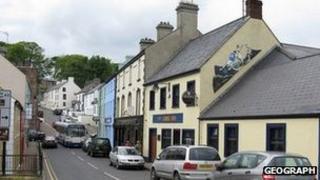 Many towns and villages in the north east can offer good connectivity.
At the BBC's office in Ballymena the download speed is about 8.5mbps, the upload speed is 1.6mb.
But go a few miles outside the town and those speeds reduce dramatically.
That pattern is repeated all over the region, including the Glens, where many people say they are fortunate to get a download speed of 0.5 mbps.
Andrew McAllister runs a shop in Cushendall and is also the rural development manager for the north east.
He said better broadband coverage in rural areas should be a priority.
"We surely should have the same rights as an urban dweller and that right can be to transport, it can be to health, but it is also to broadband," he said.
Outside Cushendall, many people have a slow or intermittent broadband connection but some people can't get it all.
Gary O'Loughlin runs the Lara Lodge restaurant in Glenariff.
Despite his best efforts he has been told a connection is impossible.
"We've had people out who have put a satellite dish up and run a cable to it 500 yards long all to no avail," he said.
"We are open 10:30 at night, so we have to go home before we can check emails and reply to them and this loses us business."
Someone who knows the communications business well is IT consultant Brendan Major - he moved his life from London to the Glens with the expectation that he would be able to conduct business in Northern Ireland and England via the web but he says it hasn't worked out like that.
"I've found myself doing the very thing I thought I wouldn't have to do which was commuting into Belfast to do my business or indeed flying over back to England," he said.
"The office in my home in the Glens which I have equipped is now essentially a drying and ironing room because my work can't be done there."
The lack of a reliable connection isn't just important to small business and domestic users - some larger companies are located in rural areas.
They create much needed jobs but nowadays they are completely reliant on electronic communications.
One such company is Glens of Antrim Potatoes which has its headquarters two miles outside Cushendall.
Charlie McKillop from the company says despite promises there is no sign of them getting a high speed connection.
"We deal with many of the major supermarkets and it's very important that the electronic delivery is fast and available," he said.
"On occasion broadband does go down and you hope it's only for an hour at a time but it can be for longer and that has a big impact on the business."