19 Light Brigade disbandment marked with Ballykinler service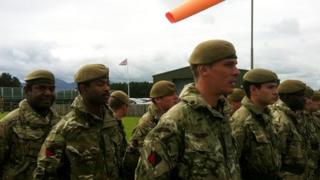 A parade and religious service has been held in County Down to mark the disbandment of one of the most famous brigades in the British army, 19 Light Brigade.
The Northern Ireland-based brigade can trace its original roots back to the Boer War and the First World War.
More recently, it fought in southern Iraq in 2006, and in Afghanistan in 2009 - a tour of duty which saw 70 killed and many more injured.
The disbandment of the brigade is part of the wider re-organisation of the British Army, as a result of the cutbacks announced in the strategic defence review in 2010.
Speaking at the service at Ballykinler camp in south Down, the brigade commander Brigadier Edward Chamberlain said: "I feel a bit of sadness, inevitably.
"But it's not the first time that the 19 Light Brigade has done this. We've had four lives since we formed in the 1890s.
"Yes, I have sadness, but also an overwhelming sense of pride."
Their tour of Helmand was one of the toughest so far for any brigade.
In 2009, ahead of the Afghan presidential election, they launched Operation Panther's Claw to gain control of central Helmand and tame the insurgency.
The soldiers who were killed were remembered at the Drumhead religious service in County Down.
Also remembered were Mark Quinsey and Patrick Azimkar who were shot dead by dissident republicans at Massereene barracks in Northern Ireland just before the 2009 Helmand tour began.
The regular Army is being reduced in size from 102,000 to 82,000 soldiers by 2020, and the number of reservists is due to double to 30,000.
Most of 19 Light Brigade's units will soon come under the command of other brigades, though some will cease to exist.
Under the restructuring known as Army 2020, 17 major units are being lost, as the force is reshaped in some of the most significant changes in decades.
19 Light Brigade will formally disband its headquarters on 31 March next year.
The insignia of the brigade is the panther. The disbandment means the end of the panther in the British army.
Brigadier Chamberlain said: "It has been reborn before, so maybe it will roar again."
Follow Mark Simpson on Twitter @BBCMarkSimpson