SDLP cancels pub crawl after cheap drinks promotion criticism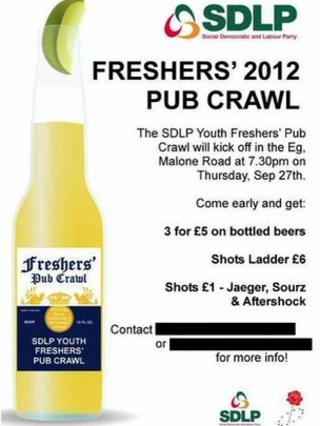 The SDLP has admitted an "error of judgement" over a flyer inviting university students to a pub crawl.
The SDLP Youth Freshers' Pub Crawl flyer also included an advertisement for cheap alcoholic drinks.
The party has recently been involved in a high-profile campaign to ban such promotions.
In a statement, the SDLP's youth wing said the drinks promotion listed on the flyer was being hosted at the venue and was "not arranged by SDLP Youth".
It added: "Nevertheless SDLP Youth recognises that the issuing of this flyer was an error of judgement and has cancelled the event detailed on it."
"SDLP Youth is in full support of the party's policy of promoting responsible drinking and would not ever begin to condone any actions to the contrary."
Action
Last week, the Social Development Minister, Nelson McCausland, announced a ban on pub promotions offering unlimited amounts of alcohol for a fixed price.
A campaign to restrict cheap drinks offers gathered momentum following the death of 20-year-old Joby Murphy in January.
He fell into the Lagan river after drinking heavily during a night out with friends at the Odyssey in Belfast.
His father, Joe Murphy, lobbied Stormont ministers to take action on the issue.
On Friday, he told BBC Radio Ulster that when he was told about the SDLP flyer he thought it was "a set-up or something".
"I just couldn't believe it was actually real, coming from the SDLP."
Alex Maskey, Sinn Fein MLA in south Belfast called the promotion "irresponsible".
"The dangers associated with this type of drinking, especially for young people, have been well-documented and highlighted recently," he said.
"This irresponsibility is at a time when there are on-going complaints from residents in the Holy Land area, Stranmillis and the lower Lisburn Road with regards to the behaviour of some students clearly under the influence of alcohol."