Jim Allister case against Ian Paisley jr to go to trial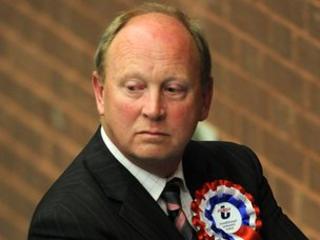 Mediation would be a waste of time in Jim Allister's legal action against Ian Paisley Jr, the High Court has heard.
A judge was told there was little chance of a resolution that would avoid the defamation lawsuit going to trial.
Mr Paisley, the Democratic Unionist Party MP for North Antrim, also wants a jury to hear the case, his lawyer confirmed.
He is being sued by Mr Allister, Traditional Unionist Voice leader, over allegations in his election leaflet.
The pair stood against each other in the 2010 Westminster poll.
Details of the contentious section of the pamphlet cannot be disclosed for legal reasons.
Mr Allister had sought to have distribution of the leaflet banned before the election.
Jury trial
He claimed it could have serious consequences because of the potential impact on the thinking of voters in the constituency.
Although he failed to secure an injunction, his legal team have since pursued a libel action.
Mr Justice Gillen, who will decide the case, fixed it for a hearing in January.
He was informed that Mr Paisley is to apply for it to be a jury trial.
The asked asked lawyers for the plaintiff and defendant: "Is there any chance of mediation in this case, or is it a waste of time?"
Both sides agreed that such talks were unlikely to lead to a settlement.
Mr Allister's barrister said: "I think it probably would be a waste of time."
The judge warned the lawyers that issues over any jury, such as membership of political parties or churches, should be resolved in advance of the hearing.
"It's imperative that on the morning of the trial the jury is not kept waiting while people are hammering out points that should have been done a long time before."