Sean Quinn Jnr appeals contempt of court jail sentence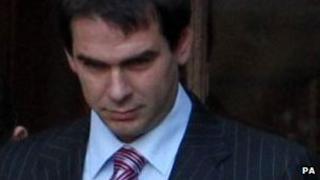 The Supreme Court in Dublin has begun hearing an appeal by the son of bankrupt businessman Sean Quinn against his conviction and imprisonment for contempt of court.
Lawyers for Sean Quinn Jnr told the court that it was "incorrect and legally wrong" to jail him to encourage his father to comply with court orders.
A five-judge Supreme Court, led by Chief Justice Mrs Justice Susan Denham, is hearing the appeal, which is listed for two days.
The 33-year-old was jailed for three months in July for breaching orders to stop him interfering with Quinn International Property Group assets.
A judge ruled he, along with his father and cousin Peter Darragh Quinn, were in contempt for putting millions of pounds worth of international property beyond the former Anglo Irish Bank's reach.
The bank was bailed out by Irish taxpayers and is now controlled by the Irish Bank Resolution Corporation (IBRC).
The IBRC claims the Quinns owe it about £2bn and is trying to recover the money from their property assets on behalf of Irish taxpayers.
Sean Quinn Jnr was brought to the Supreme Court from Mountjoy Prison after lawyers last week secured his temporary release in order for him to attend the appeal hearing.
The IBRC did not object to his release.
Barrister Brian O'Moore, SC, counsel for Mr Quinn Jnr, told the court his client was found guilty of contempt on a single issue.
The "practical approach" taken by the High Court judge in jailing him to encourage his father to comply with court orders was incorrect and legally wrong, he said.
"If Sean Quinn Snr had the ultimate power to comply with coercive orders, one wonders why his son is in jail."
Barrister Bill Shipsey SC, also for Mr Quinn, argued that the order jailing Sean Quinn Jnr arose from a finding of contempt but on sentencing day his failure to comply with more than 30 coercive orders were also taken into account.
"A three-month sentence was imposed for the finding of contempt, but it also appeared he was jailed indefinitely in a bid to secure compliance with the coercive orders.
"We say this was wrong in principle, in circumstances where coercive orders went way beyond finding of contempt against him."
Lawyers for the bank will address the Supreme Court on Wednesday, and have indicated they will present new evidence to support the continued detention of Sean Quinn Jnr.