Derry firework attack 'could have killed'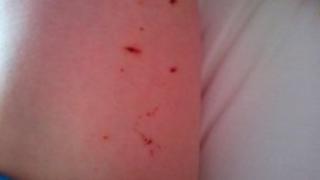 The family of a Londonderry schoolboy who was burned when a firework was thrown at him have said he could have been killed in the incident.
Fourteen-year-old Joseph Gillen was treated in hospital after the incident in Rosemount at the weekend.
His father Joe said his injuries could have been much worse.
"I couldn't believe it when he showed me the injuries. To anyone out there selling or dealing fireworks, bear in mind what happened to my son," he said.
"I was sitting in the house when I got a phone call.
"I never thought it would be so serious until I seen what it could do. He was in bad shape.
"The damage is done. He could have ended up dead. I was very, very shocked."
The police have said if the culprit is caught they will be charged with grievous bodily harm.