Sean Quinn Jr appeal resumes in Dublin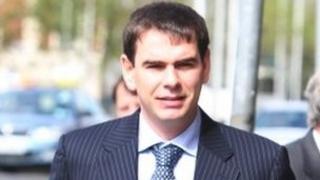 The fourth day of an appeal by the son of Sean Quinn will resume later.
Five judges are hearing the case at Dublin's Supreme Court.
Sean Quinn Jr was jailed for three months in July for breaching orders to stop him interfering with Quinn International Property Group assets.
A judge ruled he, along with his father and cousin Peter Darragh Quinn, were in contempt for putting millions of pounds worth of international property beyond the former Anglo Irish Bank's reach.
The bank was bailed out by Irish taxpayers and is now controlled by the Irish Bank Resolution Corporation (IBRC).
The IBRC claims the Quinns owe it about £2bn and is trying to recover the money from their property assets on behalf of Irish taxpayers.
In his appeal, Sean Quinn Jr contends he was not in contempt of court and, even if he were, it was disproportionate to jail him.
His lawyers told the court that it was "incorrect and legally wrong" to jail him to encourage his father to comply with court orders.
The Quinns have admitted moving assets beyond the reach of IBRC, but claim they took no action after a High Court injunction issued on 27 June 2011 ordering them to stop.
Lawyers for IBRC last week told the court it had obtained new documents showing the Quinns had drawn up contracts with companies linked to their asset-stripping strategy.
The bank claims that some of the contracts to seven Quinn family members were backdated to make it appear they were signed before the court order was issued.
Lawyers said this new evidence was relevant to Sean Quinn Jr's credibility, his intention and as proof of non-disclosure.
Insolvency fallout
Separately, a group of politicians in the Republic will later consider the cost of Quinn Insurance insolvency fallout.
In August, the High Court was told that €1.65bn may be required from the Insurance Compensation Fund to meet claims and costs arising from the administration of Quinn Insurance.
That figure is double the original estimate for covering claims and costs at the company.
A 2% levy has been imposed, for an unknown period of time, on all home, motor and commercial insurance policies in the Republic to cover the bill.
Representatives from the Central Bank of Ireland, Department of Finance and the company's joint administrators will attend the Dail Committee on Finance, Public Expenditure and Reform meeting to discuss the issue.