West Belfast father guilty of fracturing baby's skull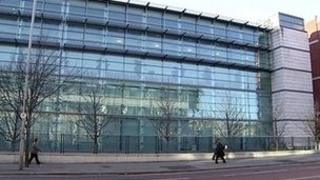 A 25-year-old west Belfast man has been convicted of assaulting his seven-month-old daughter, leaving her with a fractured skull.
Belfast Crown Court had heard the baby suffered extensive bruising to her face and head, as well as the skull fracture, on 3 November 2010.
Her father, who cannot be named, had been looking after her for 20 minutes.
He was convicted on a majority verdict of causing grievous bodily harm with intent. Sentencing was adjourned.
The judge remanded him in custody and adjourned sentencing until reports have been compiled.
During her evidence to the court, the baby's mother said that her daughter had been "perfectly fine" when she left the house and her partner had been taking the child upstairs for a nap.
However, when she returned 20 minutes later, the baby had two black eyes, a bloody nose and extensive bruising over her face. The jury heard that a CT scan showed a fracture to the right side of her skull.
'Implausible defence'
On arrival at the Royal Belfast Hospital for Sick Children, the child's mother said she had "just barged my way in and told the doctors to get the police".
In police interview, the 25-year-old accused said the only possible explanation was that as he was carrying his daughter upstairs to bed, her head had accidentally hit the wall and that as he was putting her down on the bed, the bottle he was carrying by the teat between his teeth had dropped and hit his daughter in the face.
That explanation however was criticised as "implausible" by consultant paediatrician Dr Patricia Kenny, who described to the jury how the varying nature and widespread bruising suffered by the baby girl must have come from multiple blows, as if "you have been banging about in a road traffic accident".
Dr Kenny told the jury it was "very unusual" to see fractures of the frontal bone in babies as babies are "pretty tough".
"Skull fractures don't occur accidentally unless there's been a significant forceful impact such as a road traffic accident or fall from a first floor window," she said.