Bail refused in NI cattle dealer kidnap case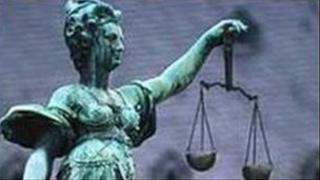 A cattle dealer kidnapped in an alleged £320,000 extortion plot was lured to NI to view a meat factory, a High Court bail application has heard.
Prosecutors claimed the victim was passed to an armed gang by a man who travelled with him from Scotland.
Robert Vevers, 55, of Spango Bridge Cottage, Crawick, Dunfries in Scotland, faces charges of kidnapping, false imprisonment and blackmail.
Bail was refused due to a potential risk to the course of justice.
The court heard that the man was held captive for up to five days after being bound with cable-ties, hooded and bundled into a van near Omagh, County Tyrone.
It was claimed that Mr Vevers travelled with the victim, who lives in Essex, on the ferry from Cairnryan.
The man was eventually released across the Irish border after his father paid a reduced ransom demand of 100,000 euros (£80,000).
Boning plant
According to the prosecution the trip was suggested to view a meat boning plant near Ballymena, in County Antrim.
But instead they were met by another suspect who drove them towards Omagh, apparently to pick up another person.
Crown lawyer Fiona O'Kane said they stopped at a farmhouse where the victim was handed over to six to eight men armed with a shotgun and bats.
He was tied up and driven away before a phone call was made to father in the Irish Republic, initially demanding 400,000 euros for his release.
The victim was released in Drogheda, County Louth, after the reduced amount was left in a hedge.
Mr Vevers was arrested days later in Scotland.
He denied any knowledge of a planned kidnapping or use of any weapons.
However, Mr Justice Horner ruled that bail should be refused due to the ongoing investigation and potential risk of interference with the course of justice.