Nelson McCausland announces review of social housing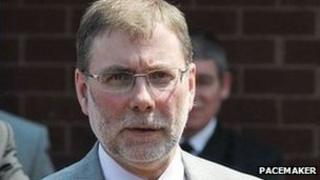 Social Development Minister Nelson McCausland has announced a review of how social housing is allocated.
He told the assembly that more also needs to be done to help people live independently and do more prevent homelessness.
His plans are contained in a 57-page housing strategy - the first ever produced for Northern Ireland.
He said "many communities in NI have been stigmatised by blight, deprivation and a dwindling population".
He also told MLAs that "housing can and should play a greater role in helping to generate these communities".
The work of the Housing Executive is also to be reviewed and, by March 2015, new structures are to be put in place to support the delivery of housing.
Mr McCausland said the figures for new housing were "stark".
He said figures suggested that Northern Ireland needs 11,000 new houses every year but in recent years the supply of new homes has been closer to 7,000.
Cameron Watt, chief executive of the Northern Ireland Federation of Housing Associations said the plans set out "some really good ideas" to ensure that everyone in Northern Ireland had access to a "decent, safe home at a price they can afford".
"I think the principles and the themes are ones most of us can buy into," he said.
"There does seem to be fairly broad consensus that we do need to improve both the supply of new housing, but also to get the current stock up to scratch
"There's a lot of emphasis on bringing empty homes back into use.
"Yes, we need to build more homes but we also need to tackle the huge number of empty homes that are lying vacant in Belfast and other high demand areas," Mr Watt added.
The strategy document is being put out to public consultation and the consultation period will end in December.