Nelson McCausland meeting Lord Freud to discuss NI welfare reform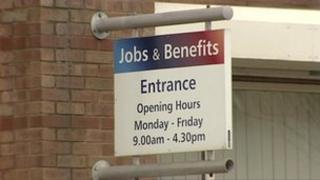 Northern Ireland's Social Development Minister Nelson McCausland is due to meet Welfare Reform Minister Lord Freud about benefit changes on Tuesday.
Last week, Stormont MLAs voted in favour of the biggest shake-up of social security benefits for decades.
The reforms will impact on thousands of people in Northern Ireland, and will affect disability living allowance, housing benefit and employment support.
The new legislation has already been passed in England and Wales.
The Stormont Assembly debated the Welfare Reform Bill last Tuesday - the motion was passed by 60 votes to 42.
A Sinn Fein amendment to postpone the bill failed.
The proposed measures will now go before a Stormont committee for more detailed consideration.
Mr McCausland told MLAs that Lord Freud was sympathetic to the concerns of Northern Ireland ministers who are seeking flexibility in the way the planned welfare reforms are implemented.
The Department of Work and Pensions declined to respond in detail to questions from the BBC about which specific areas of flexibility might be under discussion.
However a spokesperson described Lord Freud's meetings with the social development minister as "constructive", adding that the UK government was "committed to supporting the Northern Ireland Executive in implementing its reform".
The Westminster government has said the overhaul will streamline payments and stop fraud.
Under the changes six benefits, including housing benefit, would be brought together in a single, monthly Universal Credit payment.
The bill would also replace Disability Living Allowance (DLA) with a personal independence payment.
It would mean claimants being independently assessed every three years, instead of assessing themselves, as happens at the moment.