Drumlough Orange Hall: Thieves attempt to lead from roof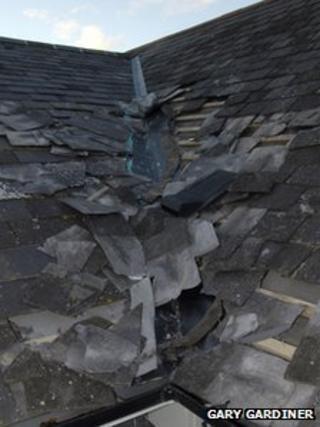 Thieves have attempted to steal lead from the roof of an Orange Hall in County Down.
Damage was caused to Drumlough Orange Hall, near Rathfriland, on Tuesday afternoon.
Two intruders were disturbed by a member of the lodge. No-one was arrested.
The building recently underwent an extensive renovation.
A spokesman for Drumlough LOL 153 condemned those responsible.
"The lodge members simply cannot understand the motivation behind this brazen attack on our hall which occurred in broad daylight," he said.
"The sheer audacity of those involved knows no bounds and it was only by sheer coincidence that the perpetrators were caught in the act, otherwise the consequences could have been much worse."
The Orangeman appealed for any witnesses to assist the police in their investigations and warned all key holders of community halls in the area to be vigilant.
He added: "Those involved in such criminal activity must face the full rigours of the law."