Andrew Morrow jailed over death of 12-year-old Daniel Mooney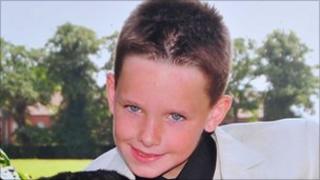 A disqualified driver who killed a 12-year-old boy by driving dangerously has been jailed for eight years.
The judge said Andrew Paul Morrow, who has 72 previous driving offences, posed a "significant risk" to the public.
The 33-year-old from Vara Drive, north Belfast, pleaded guilty to causing the death of his pillion passenger, Daniel Mooney, in Mountcoole Park in May 2011.
The court heard Morrow drove away on his scrambler motorbike after the child had fallen off the back of the vehicle.
'Dangerous offender'
The schoolboy was thrown under a parked 4x4 vehicle and died from head injuries.
Morrow , a window cleaner, admitted charges of failing to remain at the scene and failing to report an accident.
He also pleaded guilty to causing the schoolboy's death by driving while disqualified and without insurance.
Jailing Morrow at Belfast Crown Court, Judge Corinne Philpott QC labelled him as a dangerous offender.
She said that despite going through the courts numerous times to amass his 72 convictions, he has "failed to pay any heed to the driving laws".
The Deputy Recorder of Belfast told Morrow that instead of being released half way through his sentence, it will be up to the Parole Commissioners as to when and under what conditions he should be released.
He adding that when Morrow is freed, he will have to serve an extra three years on licence conditions.
'Ultimate responsibility'
Alongside him in the dock was 20-year-old Dean McComb from North Queen Street, in north Belfast, who had pleaded guilty to dangerous driving, driving without a licence and without insurance.
However, McComb walked free from the court after Judge Philpott suspended his 18 month term for three years.
Handing Morrow a ten-year driving ban and McComb a two-year ban, the judge said it is "quite clear to this court that the ultimate responsibility for this lies with Mr Morrow".
At a previous court hearing, it was reported that the scrambler motorbike Morrow was driving was not designed to have a passenger, so there were neither foot rests nor hand grips for the child to hold onto.