DUP's Wells wants Jim'll Fix It poster removed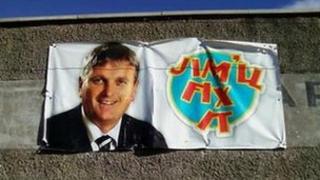 It must have seemed like a good idea at the time.
When a pressure group in Kilkeel put up a poster linking a DUP assembly member with Jimmy Savile several months ago, the politician thought "fair enough".
But in the light of the flood of sex abuse allegations against the former DJ, Jim Wells would like it taken down.
The poster, erected without any consultation with the MLA, features a picture of a smiling Mr Wells alongside the slogan 'Jim'll Fix It', the name of Savile's long-running programme on BBC television.
According to Mr Wells, who his party has already said will be the next health minister, the group behind the poster wanted to put pressure on him to support a campaign to save the Slieve Roe Residential Home.
The poster appears on a wall opposite the home in the County Down fishing port.
Slieve Roe is believed to be under threat after the Compton Review recommended the closure of 28 of Northern Ireland's 56 residential facilities.
"If someone wants to put up a poster saying 'Jim Wells must help save Slieve Roe House' I would have no problem with that at all," said the MLA, who is vice chair of the assembly's health committee.
"The problem is that since the poster was put up eight or nine months ago the allegations about Sir Jimmy Savile have come out and although they're unproven, obviously I have no wish to be associated with anything like that.
"So while I don't want to appear petty and demand the poster is removed I would appreciate it if the committee would take it down and replace it with another one if they want."