Crumlin death threat principal still out of school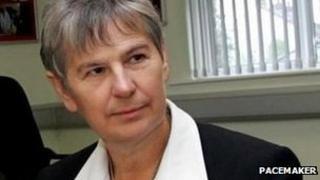 The principal of Crumlin Integrated College has not returned to work in the school, eight weeks after receiving a threat to her life.
Dr Annabel Scott was advised to stay away from the school while the police investigated the emailed death threat.
She had just returned to work after being suspended for two years following a damning inspection report.
There was opposition to her return, but a parents' group said it did not support the threat.
Ray Gilbert, a senior education officer for the North Eastern Education and Library Board, said she could not go to the school.
"The trade unions agreed that Dr Scott should not come into the school, in case children or other staff members were put at risk," he said.
Fern Turner of the National Association of Head Teachers, which represents Dr Scott, said the principal and her family are under enormous pressure.
"This has gone on too long, but we know the police are doing their best to track down the person who sent the threatening email," she said.
"If it had been a drunken escapade I feel sure the police would have been able to find the person and establish whether it is a genuine death threat. The difficulty which the police are having suggests a more sinister element is involved."
The North Eastern Education and Library Board said that for the last eight weeks a senior teacher has been carrying out extra duties in the school while the principal worked from another location.