Police warning of flooding in Larne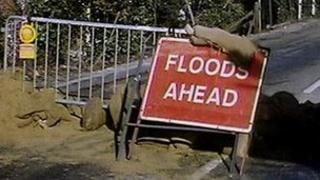 The police have warned of heavy flooding in Larne, County Antrim.
The Belfast Road is badly affected near Millbrook and Broadway. There is also a landslide on the Coast Road between the town and Drains Bay.
The East Antrim Alliance assembly member, Stewart Dickson, said Ballygally had also been badly afftected.
"The flooding in Ballygally is actually contaminated with waste water which is a serious health risk," he said.
"This highlights the need for our sewer network to have separate clean water and waste water systems.
"Our antiquated sewer system needs urgent investment to prevent flooding in the future. It is unacceptable that our sewer system cannot handle a few heavy showers. There clearly needs to be better maintenance to reduce blocked drains and pipes."
Heavy rain also caused overnight flooding further up the coast in the village of Cushendall.
Firefighters used pumping equipment to divert water away from homes in Shore Street on Thursday night.
The main road in the village was closed, as was the Coast Road between Waterfoot and Cushendall.
Sinn Fein East Antrim assembly member Oliver McMullan said flood alleviation work in the area must be a priority.
"It was like something out of a movie, people were sandbagging their houses and parts of the village to keep the water out," he said.
"Every time this happens it costs more and more money for public services with the Rivers Agency and Fire Service people having to attend.
"The money they will spend will save money in the long-term."
He said the drainage system in the village was old and water runoff from the surrounding hills was causing the problems.
Meanwhile, the environment minister has said that householders affected by recent flooding remain eligible for a £1,000 payment.
Alex Attwood said that the scheme has been extended to the end of October.
"Detailed guidance on the operation of the scheme has been issued to all 26 councils," he said.
"Individual householders will be eligible for a £1,000 payment as an offer of practical assistance to those who have suffered severe inconvenience, to ensure homes are made habitable as quickly as possible. It is not a compensation payment."