Sinn Fein say Peter Robinson is talking 'nonsense'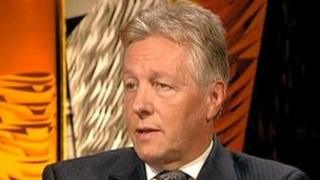 Sinn Fein have described comments from First Minister Peter Robinson that they have changed positions to mirror the SDLP as "nonsense".
On BBC NI's The View, Mr Robinson said the DUP and Sinn Fein had put a lot of history behind them, but that SF were "looking over their shoulder".
Sinn Fein's Alex Maskey said the DUP leader was being "contradictory".
"At the heart of Peter's problem is he does not have a party in Sinn Fein which is compliant to him," he said.
"All unionist political leaders are, regrettably, always trying to find a nationalist party or a Catholic representative who is weak or compliant and they can't get that from Sinn Fein that is why they are frustrated."
On Thursday night Mr Robinson told the BBC: "I think Sinn Fein should have confidence because of their electoral mandate in the assembly.
"But I see over and over again the kind of line that Alex Attwood and the SDLP would be taking suddenly becomes the position that's adopted by Sinn Fein.
"I really do think that they need to stop looking over their shoulder, stand up for themselves and take the responsible position in government."
He said it would have been easy for the DUP to have voted against welfare reform so as to avoid any blame for it, but that would not have been the responsible thing to do.
On Friday, Mr Maskey said Sinn Fein supported motions which they thought were worthwhile irrespective of the party proposing them and that they were rivals with the SDLP.
"They attack us every day precisely because we don't listen to them, we are not looking over our shoulders at them," he said.