Belfast City Hospital urges vigilance over vomiting bug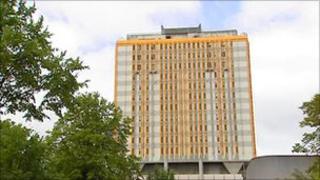 Belfast City Hospital has urged visitors to be vigilant after an increase in the number of patients suffering from vomiting and diarrhoea.
Brenda Creaney of the Belfast Health Trust said people should not visit if they have had the bug.
"Please be diligent in your hand washing when entering and leaving wards or clinical areas; please do not bring food on to the ward," she said.
She reiterated the hospital policy of no more than two visitors per patient.
She also asked visitors not to bring children to the wards, to ensure they did not become ill.
.