Millie Martin murder accused 'tried to be dad'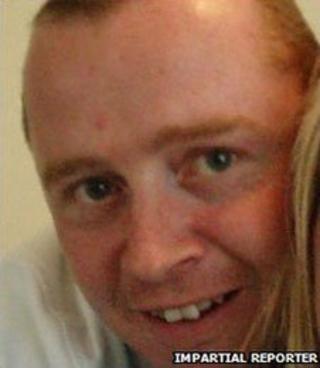 The man accused of murdering Enniskillen toddler Millie Martin told police he "tried to be a dad" to her, Dungannon Crown Court has heard.
Barry McCarney described her as "a beautiful girl" and that he did not know what had happened to her.
The toddler died on 11 December 2009, a day after she was admitted to hospital in Enniskillen with serious injuries.
Mr McCarney denies murder and sexual assault. Millie's mother, Rachael Martin, denies allowing her death.
The court heard Mr McCarney was arrested at the Royal Belfast Hospital for Sick Children to which Millie Martin had been transferred.
'Gasp'
A few hours later he was questioned at Antrim police station.
When a detective asked him what had happened, he is alleged to have told police: "I do not know what happened to Millie."
He said: "She's a beautiful child a beautiful girl. She's joyful, she's just your average one year old learning to talk.
"I'm not Millie's father - I try to be a dad to her."
Before he was examined by a police doctor the court was told he said: "It's ok carry on. I've got nothing to be afraid of."
In his interview Mr McCarney told police that Rachael Martin went out to a local shop to buy him some chocolate.
He said he went upstairs to check on Millie and he saw her taking a big gasp, after which she did not breathe again.
He said he picked her up and gave her "a wee shake".
The accused said he thought there was something stuck in her throat and he ran to get help from a neighbour who drove them to the Erne Hospital.
He told police: "I'm trying my best to help you out."
'Subdued'
TReverend Henry Blair from Ardess told the court that he went to the hospital in Belfast to be with Rachael Martin's family.
He said a short prayer and afterwards he recalled that Mr McCarney also said a prayer.
The clergyman told the court that when Mr McCarney was arrested he was very quiet, very subdued.
As he was led away Mr Blair said Mr McCarney turned towards Rachael and said "It's not mine".
The trial continues.