Strabane recalls devastating 1987 flood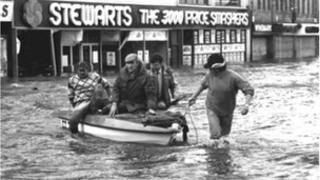 Twenty-five years and £7m on and Strabane is keeping above water.
The County Tyrone town suffered a devastating flood on 22 October 1987 after the River Mourne burst its banks, leaving homes and businesses destroyed.
At 01.55 BST flooding started in the Lower Main Street and Railway Street areas and quickly spread to other parts of the town centre, leaving much of it partially submerged.
At its height, there was up to four feet of water in Abercorn Square.
A new flood wall was built by a Belgium firm in 1989 at a cost of £7m.
'Sea of water'
Veteran Strabane Councillor James O'Kane said the wall has been tested on many occasions since the flood in 1987.
"The big flood will most likely never be repeated. In the aftermath of the floods the new water wall was built and it is much bigger than the original with no cracks, so the scenes witnessed 25 years ago when boats crossed Abercorn Square will hopefully never be seen again."
Earlier in the day the pedestrian suspension bridge at nearby Sion Mills buckled and was washed away.
Aircraft crossing overhead to report on the disaster recorded a "sea of water" covering the whole area.
Frank Elliot, a local fisherman said it was a "devastating day for the town."
"The water gushed through the town and the sound of the rubble being washed through the streets was like a bomb.
"I have five children and at the time they were aged between six and 14. Our family home was destroyed and I remember the emergency services had to pass food to us through our top bedroom window for a day or two.
"It was manic to see boats sail through the streets rather than cars."
Frank, who is now 75-years-old, lived on Lower Main Street and said it's a day he will always remember.
"After 36 years I lost my job in a local bakery, I had the flood disaster that night and to top all off it was my 50th birthday.
"During 1985 and 1986 there had been a number of minor floods and it was no surprise to people that things would get worse as parts of the bridge and wall had cracks in it.
"You could see the water spouting through and after an hour, the water was well and truly above our waist line.
"I can recall Army officers rescuing people on boats but the current was so strong at times I can still see them struggling.
"I parked my Volkswagen Beetle up at the Bowling Green on the high ground the day before nature struck. I was a lucky man."
The flood damage was so bad that civic and community leaders called for the area to be declared a disaster zone. At the time business leaders in the town estimated that the damage ran into millions of pounds.
Panic
Kathleen McAnneny owned a confectionery store at the time.
"My business became swamped. Everything was destroyed, including stock, which was totally heartbreaking.
"I will never forget that moment when I stood back and looked at the town. It was like something from an old film.
"I remember a massive bang on my door and it was my husband sounding the alarm.
"He was out visiting a friend at the time and because he was blind, there was a great deal of panic.
"Our furniture had to be dumped, carpets had to be lifted and it was just so sad to see all your personal things going to waste. We had lost our car in the current too and it got to a stage where we had to be evacuated.
"There were quite a few babies and elderly people being put on to lifeboats and I remember them sailing by our window.
"I remember older women at the time kicking and screaming as they were being taken from their homes. It was extremely surreal.
"I just hope we never see a day like it again."