Two fuel laundering plants raided in County Louth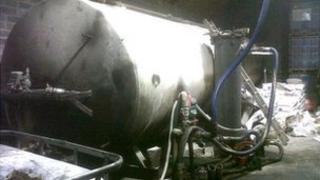 An oil laundering plant with the capacity to launder about 4m litres of fuel per annum has been uncovered in County Louth.
The find, at Courtbane, was the second in the area in 12 hours.
Earlier three men, two from Northern Ireland, were arrested after two diesel laundry plants and an illegal drinking den were found near Hackballscross.
Four tonnes of toxic waste were found at the Courtbane site among with 21,000 litres of illicit fuel.
Bleaching earth, a tanker, a van and equipment were seized in a shed at the back of a private house.
Customs officers and police took part in the raid.
Earlier, customs officers, supported by armed police, seized about 30,000 litres of diesel at Tatebane, near Hackballscross.
Fifty-three bags of bleaching earth, a tanker and three lorries, one of which contained a concealed tank for the transportation of laundered fuel, were seized at the site.
It is estimated that one of the plants was costing the Irish state 9m euros in lost revenue.
It had the capability to wash the colour from 18m litres of agricultural diesel a year.
Thirty-six tonnes of toxic waste, the by-product of washing the diesel, were also found.
The second oil laundry plant was using cat litter as a bleaching agent.
A shebeen with a large quantity of beers, cider and spirits was also discovered in a shed at the same location.