Belfast men jailed for Alliance Party pipe bomb attack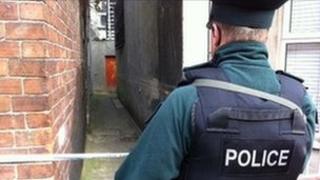 Two Belfast men who left a pipe bomb at the Alliance Party headquarters have been jailed for a total of eight-and-a-half years.
The judge sentenced Barry Boardman, 44, to four and a half years while Francis Carleton, 39, was given a four-year term.
Judge David McFarland said he was making a distinction between the role both men played.
He said Boardman had thrown the device while Carleton was the courier.
Boardman, from Claremont Street, and Carleton, a taxi driver, from Cavendish Street, both Belfast, had pleaded guilty to possessing the improvised pipe bomb on 26 May last year when it was thrown into the backyard of the Alliance Party HQ on University Street in the south of the city.
A prosecution lawyer said police apprehended Boardman as he walked out of the alleyway which runs along the back of the offices just before 23:00 BST.
He then told police there was a bomb and that it was fused, but that he had not lit it.
Carleton was arrested as he waited nearby in his taxi.
He claimed at the time of his arrest and during later interviews that he was waiting on his fare and knew nothing of the bomb.
The court was told that the pipe bomb was examined by an Army bomb expert and described as "crude but viable".
It had contained three bullets along with a small amount of low grade explosive material.
"The prosecution case is that it was a specifically targeted premises," said a prosecution lawyer.
Boardman's defence said the attack appeared to have been part of a wider campaign of hoax bombs which had been placed in Belfast over a 48-hour period, causing massive traffic disruption.
"The purpose of planting the hoax bombs appeared to be related to a protest about issues within Maghaberry Prison," said the lawyer adding that it seemed "the relevance of the Alliance Party is that Mr Ford is the Minister for Justice".
Handing down the jail terms and ordering that each man spend half in custody and half on licence, Judge McFarland said while he was satisfied there was never any intention to light the device, it was part of an "ongoing terrorist campaign" to cause disruption to "members of the public and security personnel required to deal with it".