Irish justice minister: Concerns about Smithwick evidence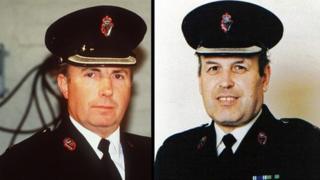 The Irish Republic's justice minister has said he is concerned about the timing of evidence provided to the Smithwick Tribunal.
Alan Shatter said British Authorities and the PSNI "only recently and unexpectedly provided additional intelligence-based material".
The tribunal is investigating claims of garda collusion in the 1989 IRA murders of two senior RUC officers.
He made the remark during a Dail motion to extend the tribunal until July 2013.
"I regard it as surprising that new material of relevance to the tribunal's work has only so recently been furnished to it having regard to the duration of the tribunal's engagement" Mr Shatter said.
The tribunal chairman has sought the extension due to the medical condition of a key witness.
Intelligence gathered
Judge Peter Smithwick also wants to examine 'highly relevant intelligence material from security agencies in Northern Ireland'.
The additional PSNI intelligence, given to the tribunal in July and August of this year, had been gathered since the tribunal began its investigation seven years ago.
The 'live intelligence', in part, arises from commentary with Republican circles on the work of the tribunal.
Twelve strands of PSNI intelligence were last week read into the public record at the tribunal.
The intelligence suggested that senior gardai, at a rank more senior than detective sergeant, were passing information to the IRA.
Speaking on Wednesday evening, Minister Alan Shatter said it was "clearly a matter of concern that significant information should emerge at such a late stage in the tribunal's hearings".
'Late emergence'
"However, it is a matter for the tribunal at this stage to address the issues arising and the House will appreciate that I could not comment in detail on the matter without becoming involved in the substance of the work being carried on at the tribunal," he said.
"In light of the late emergence of this material, I have been assured by the British authorities that every assistance is being afforded by them to the Tribunal."
The justice minister added that further information relevant to the tribunal's terms of reference, should it exist, be made available to the enquiry.
Chief Supt Harry Breen and Supt Bob Buchanan were killed in an IRA ambush in South Armagh only minutes after leaving a meeting in Dundalk garda station on 20 March 1989.
The tribunal was established in 2005 and has been hearing evidence in public since June of last year.
It had been due to issue its final report last November but was given an extension to early 2012.
A second extension was approved earlier this summer by Mr Shatter, with a deadline of 31 October.
The latest extension to 31 July 2013 also requires the tribunal to submit interim reports by 31 January and again by 30 April .