DUP: Fire and Rescue Service stinks of corruption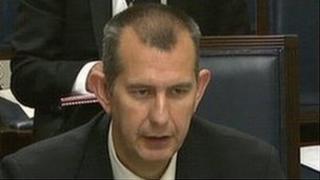 The Fire and Rescue Service stinks of corruption, a DUP MLA has claimed following revelations which emerged from whistle-blowing allegations.
Stormont Health Committee member Gordon Dunne made the comment in the light of a report calling for major changes in management at the service.
The committee took evidence from Health Department officials and from NI Fire and Rescue (NIFRS) representatives.
Members queried the role of the department in overseeing NIFRS.
Mr Dunne said: "It stinks of corruption and rottenness and fear that people were unable to report things in an open and honest manner.
"At the end of the day the department is responsible."
The NIFRS has been under investigation for some months.
Last week Health Minister Edwin Poots published a report calling for change to be led from the top.
The investigations followed whistle-blowing allegations which centred on fraud, unapproved bonuses and failings to deal with staff grievances.