Jail term warning for shining laser pens at aircraft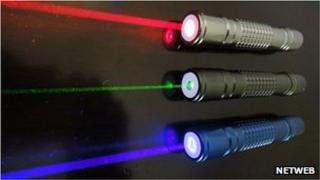 A judge has warned that anyone who shines laser pens at aircraft faces the prospect of going to jail.
Judge Kinney made his comment as he handed down a six-month suspended jail term to Michael Jackson, 26, from Island Street, east Belfast.
He shone a green laser at a pilot in the police helicopter flying in the area on 17 August 2010.
His sentence was suspended because he is a full-time carer for his mother-in-law and had pleaded guilty.
"It is clear those who target aircraft in this dangerous and reckless way should expect to go to prison," said Judge Kinney.
Prosecuting lawyer Ian Tannahill told Belfast Crown Court that during the incident the pilot was able to direct officers on the ground to where the light was coming from and officers arrested Jackson and found a laser pen during a search.
Jackson later pleaded guilty to endangering the safety of an aircraft.
Mr Tannahill said it was an indication of how seriously such matters were taken by the Civil Aviation Authority that even though there may be no effect to a pilot's vision, they were not allowed to fly again until they had had their eyes tested.
Defence lawyer Jonathan Brown said Jackson was well aware of the potential consequences of shining laser pens at people as since the incident, someone had shone such a light at him, leaving him "disorientated and dazzled" as he drove.
He added that in this case, while the incident lasted 17 minutes, Jackson only shone the laser at the helicopter for a total of 37 seconds in "flashes" of one or two seconds at a time.
As well as the suspended jail term, Judge Kinney ordered Jackson to pay the pilot £30 compensation, the price of the eye test he had to undergo.