New play on Ian Paisley to open at Belfast's Grand Opera House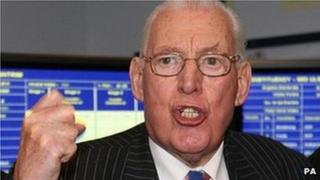 He led his own church and his own political party, was jailed, served as an MP for 30 years, was thrown out of the European Parliament and fathered five children.
He was famous for saying no - then yes - became Northern Ireland First Minister, survived a week on life support and sits in the House of Lords.
And now Ian Paisley is starring in the Grand Opera House in Belfast. Well, sort of.
He's the subject of a new play, Paisley and Me, written by Ron Hutchinson.
The play opens on Tuesday 30 October.
The director Matt Torney said the play is not simply about the larger-than-life character that is Ian Paisley.
Rather it is the story of a screenwriter who grew up in rural Islandmagee, steeped in the Protestant religion and loyalist zeal before leaving Northern Ireland in his teens.
"Throughout all of his life he has been haunted by memories of his childhood and memories of Ian Paisley, of Presbyterian religion and sectarian passion," Mr Torney said.
"And this play is about a homecoming.
"Now he is in his 50s, he has come home to confront this man, and confront the ghosts of his past."
The play has plenty of pathos with touches of humour too.
Los Angeles
It examines Ron's parents 60-year marriage and how the only time the cups flew was when Paisley's name was mentioned.
Actors Lalor Roddy and Stella McCusker play the parents who follow the writer's character around keeping their fight going - as does Ian Paisley.
Producer Martin Lynch says the playwright has never escaped the big man.
Mr Lynch recounts how the writer lives in Los Angeles but gets a similar reaction when he recalls his Northern Ireland heritage.
"People go 'oh boom boom, IRA, Bobby Sands' and he says, 'no, I am Ulster Protestant. I'm British.'
"The most asute ones will go 'Paisley! Never, never, never!' so he says this man defines him and he has never met him."
The play is the second in a trilogy examining Northern Ireland two decades after the ceasefires.
Paisley and me also explores themes of Protestantism and loyalism.
So how does actor Dan Gordon feel about portraying Ian Paisley, a big man, with a big voice and a big reputation?
"The hardest things are the words," the actor said.
"Paisley is a very clever man and the discussion and philosophical ideas that are floated in this really are difficult to get your head around.
"I had to make sense for the audience so that was tough. But I'm getting there!
"I kind of modelled it on Michael Sheen when he did Tony Blair and Brian Clough, rather than try to do an impersonation, just a representation.
"That way no one is going to be disappointed."
The play has its own theory on why Ian Paisley said yes to power-sharing with Sinn Fein - a mystery Ian Paisley hasn't entirely cleared up.
So will the big man come along?
"I have no idea," said Dan Gordon.
"I'm kind of hoping he doesn't. Too scary to even contemplate!"