Michael D Higgins to give British Council lecture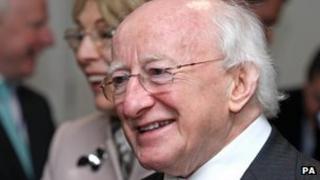 Irish President Michael D Higgins, will deliver the British Council's annual lecture at Queen's University later.
It is the first time the annual lecture has moved outside London and is doing so as part of the Belfast Festival.
President Higgins' lecture will concentrate on how Ireland will emerge from a difficult past with culture as one of the engines of growth.
David Alderdice, director of the British Council in NI, said it was an honour to host President Higgins.
"We are very proud to be working with Belfast Festival and hope to deepen that relationship in the years ahead - we already plan to incorporate work from this year's festival into festivals we will run in Brazil and South Africa over the next two years," he said.
"We are also deeply honoured to be welcoming President Higgins north to deliver our lecture.
"Our two countries share a troubled past and have both been buffeted by the global economic crisis over the past few years."