Gareth Ashe to stand trial for bus stop manslaughter of John Hickey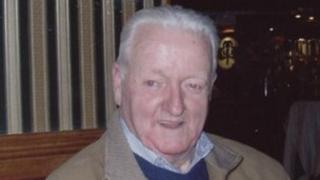 A 31-year-old man is to stand trial for the manslaughter of a pensioner who died after suffering head injuries at a Belfast bus stop, a judge has ruled.
Gareth Ashe, from Forthriver Road in the city, is accused of the unlawful killing of 72-year-old John Hickey in January this year.
Mr Hickey, from north Belfast, was injured in an incident outside Central Library in the city centre.
Mr Ashe was returned to Belfast Crown Court for trial on a date to be fixed.
He appeared before the city's magistrates court on Tuesday to establish if he had a case to answer.
No details of events leading up to Mr Hickey's death were disclosed during the preliminary enquiry hearing.
The pensioner was taken to hospital after the incident but later died.
District Judge Harry McKibbin held that there was a prima facie case against the accused.
Mr Ashe was released on continuing bail until those proceedings get underway.