Police officers accused of misconduct in public place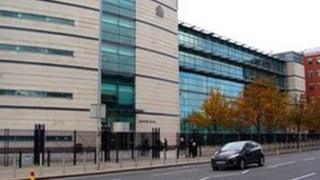 Two police officers are to stand trial accused of misconduct in a public place, a court has ruled.
Gail Proctor and Adrian Brown both have a case to answer on the allegations against them, a judge said.
The pair, whose ages were not available, were both listed as having a "PSNI default address".
It is alleged that Mr Brown abused the trust of the public in him as a police sergeant by coaching a witness while they gave evidence.
Ms Proctor is accused of wilful neglect of duty or misconduct as a PSNI constable by lying to a court.
Both alleged offences were committed in Belfast on 5 March 2010.
No further details of the allegations were disclosed during preliminary enquiry proceedings at Belfast Magistrates Court on Thursday.
However, District Judge Fiona Bagnall ruled that she was satisfied both accused have a case to answer.
Ms Proctor and Mr Brown, who appeared by way of a prosecution summons, each declined to give evidence or call witnesses at this stage.
Judge Bagnall granted a prosecution application to have them returned for Crown Court trial on a date to be fixed.
Both accused were released on continuing bail until that hearing gets underway.