Police to examine new Enniskillen bombing report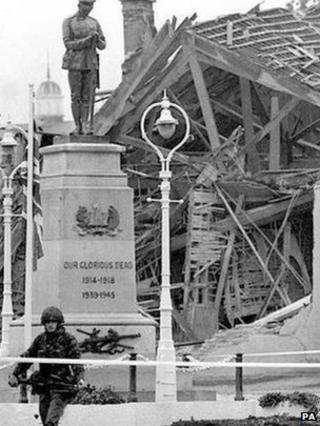 Police are to consider if a new investigation should be launched into the Enniskillen Poppy Day bombing.
Eleven people were killed in the IRA attack in Enniskillen, County Fermanagh, on 8 November 1987.
A special unit of the Police Service of Northern Ireland, the Historical Enquiries Team, has been examining the bombing.
It has passed a report to the Serious Crime Branch, which will examine if there are new lines of enquiry.
DUP assembly member Arlene Foster said the attack was "an act of horrific savagery".
"Twenty-five years after the explosion, someone somewhere knows something about the perpetrators," she said.
"Someone knows where the bomb was made, how it was transported and who planned the attack. This wasn't executed by one or two people. A team of people were involved."
No one has ever been convicted in connection with the atrocity, which was one of the worst of the Troubles.
Thursday marks the 25th anniversary of the bombing and a special memorial service is being held for the survivors and relatives of those who were killed.
Stephen Gault was injured and his father Sammy was killed in the attack.
He said that he still wanted those who carried it out to face justice.
"It will not bring my father back, or the 11 other people that were murdered in Enniskillen," he said.
"But definitely it would help with the healing if we could get somebody to serve time behind bars for their crime."