Patton Group subcontractors want financial bailout by Friday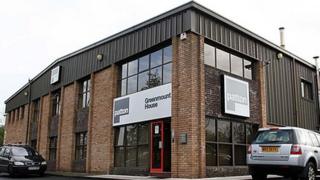 Subcontractors of the Patton Group are calling on the Northern Ireland Executive to agree a financial bailout package by the end of the week.
Seventy subcontractors met their MLAs at Stormont on Monday to talk through what the possible rescue options could involve.
James Blaney, the director of County Antrim firm Mountview Partitions was one of those at the meeting.
He said firms directly employing 1,800 people were represented.
He said the firms were owed a total of £17.5m by Patton.
The Patton Group was placed into administration last Tuesday, with 190 staff being made redundant.
However, the ripple effect on other contracted companies is only just coming into focus.
Mr Blaney said they had asked for a financial rescue package to help them through the current situation.
The problem for companies who were waiting for payments from Patton is that they may well have reached the end of their credit limit, or have no money left to start work on any other contracts even if they do manage to win any.
Mr Blaney said it was only fair that Stormont take action.
"When the Presbyterian Mutual Society got into difficulties, and other banks, they stepped in and bailed them out and got people their savings.
"That's savings - we have lost everything and more along with it."
The subcontractors are hoping to hear a decision on a financial package by Friday.
If there is no word at that stage, many of the firms say it will be too late.
The full interview with James Blaney can be heard on the BBC NI Business news podcast