Orange Order shakes off the 'sober' shackles for Christmas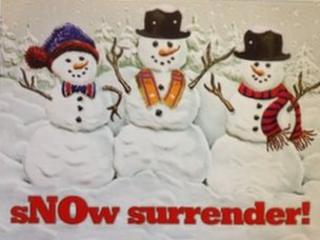 The Orange Order wants to shake off the shackles of seriousness ... and sprinkle a little light-hearted fairy dust for Christmas.
It has launched a set of Christmas cards - and its offerings include a set of bowler-hatted snowmen with the tidings: "sNOw surrender!"
The light-hearted take on all things Orange features the Arctic Rising Sons LOL (Loyal Orange Lodge) - new for this year.
And it has stumbled upon an unlikely fan base.
They said Catholics on guided tours of Schomberg House on Belfast's Cregagh Road like them too.
"The cards are popular with groups coming in to visit. The Roman Catholic groups thought they were quite humorous and were buying them to send to friends. I suppose it would be a bit of a surprise for them," Dr David Hume, director of services at the Grand Orange Lodge, said.
"You have to be able to laugh at yourself," he added.
Dr Hume said the Christmas cards had proved popular online and in the gift shop. Last year's "sNow surrender" sold out and was brought back this year by popular demand.
"The new one this year is the Arctic LOL. People enjoy this sort of thing," he said.
Loyal Order members can also pin their colours to the festive tree with a collection of Union Jack Christmas baubles.
The move is aimed at giving the traditional sash a little panache.
One card features a sleigh with a Union flag and a jaunty penguin waving a bowler hat.
In 2007, the order introduced the cartoon character of Diamond Dan.
He was created to make the order more relevant to young people and "appear less stuffy".