Political juror ban in Declan Gormley's Sinn Fein libel case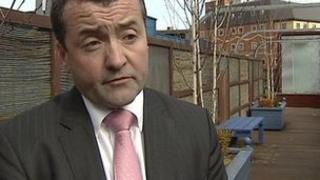 No member of any political party is to be allowed to sit on a jury due to hear a sacked director of Northern Ireland Water's libel action against Sinn Fein, a High Court judge has ruled.
Anyone who worked at the government-owned company is also to be excluded from deciding the case.
Declan Gormley, a former non-executive director in NI Water, is suing Sinn Fein and two of its representatives.
The action has been taken over the contents of press statements.
Mr Gormley was dismissed along with three other board members by former regional development minister Conor Murphy in 2010.
They were sacked following an investigation into how contracts were awarded.
Mr Gormley denies any wrong-doing.
He has issued libel proceedings against Sinn Fein, the party's Newry and Armagh MLA Cathal Boylan, and former assembly member Willie Clarke.
Lawyers for the defendants have argued that there was no case to answer because the statements at the centre of the case do not have a defamatory meaning.
At a review hearing on Friday, Mr Justice Gillen was told that the grounds on which the action was being resisted had narrowed.
The defendants were to claim qualified privilege, the court heard.
Nicolas Hanna QC, for Mr Gormley, said he was astonished at the argument that there was a right to "reply to an attack".
"As I understand it, the defendants are saying Mr Gormley himself went public on this and indeed appeared on a television programme in August 2010 in which he was highly critical of the decision by the minister to sack him," he said.
"Therefore what the defendants are saying is this was a reply to an attack made by Mr Gormley."
Mr Hanna claimed it was "an extraordinary proposition" being made by the defendants.
"It does not extend to defending yourself by making defamatory statements about your accuser," he added.
The libel action is due to begin on 26 November and run for a week.
As well as the prohibition on political party members or NI Water employees sitting on the jury, members and staff on the Stormont Public Accounts Committee are also to be excluded.
A PAC report is expected to be a key issue in the case.